18/06/2019
MORE GOLD FOR FOX MTB ATHLETES IN INNSBRUCK!
The Fox MTB team had a busy weekend at the annual Crankworx Festival in beautiful Innsbruck, Austria. Brett Rheeder, Kaos Seagrave and Jackson Goldstone each collected wins while Keegan Wright picked up valuable points which propelled him into second place in the King of Crankworx Competition.
Brett Rheeder Highlights
In what was one of the most exciting freestyle competitions in years, Brett Rheeder dug deep on his final run to lay claim to his first Crankworx Innsbruck Slopestyle victory. The event was postponed for over 5 hours on Saturday before being moved to Sunday due to high winds. By Sunday afternoon the winds had calmed down enough to allow the competition to move forward and after the first of two runs, Brett sat in first place with a top score of 92 points. That position didn't last long as Emil Johansson threw down an impressive 95. Brett would have to wait through 11 rider runs before getting his chance to reclaim the lead. In the end, he did just that with a solid run where he added additional difficulty on several of his jumps. After a lengthy review, the judges awarded Rheeder the victory by just a half a point over Johansson. The win is his second Crankworx Slopestyle in a row to start the 2019 season and keeps his journey toward the Crankworx triple crown on track. The third and final round will take place this August at Crankworx Whistler.
Kaos Seagrave Highlights
After several podium finishes in the event, Fox athlete Kaos Seagrave finally cracked the code and landed on the top step of the Crankworx Whip-off podium in Innsbruck. The jam format of the Whip Off event is always exciting, and Kaos threw down some of the most stylish and over-rotated jumps of the day. The competition pushed hard and brought their A games, but Kaos' consistency and volume helped him edge past the rest to claim his first ever Crankworx victory.
Keegan Wright Highlights
Keegan was once again one of the busiest Fox athletes over the 5-day event as he competed in nearly all the elite men's contests on offer. Finishes of 19th, 7th, and 4th - in various events - earned him valuable points for the overall King of Crankworx title. His performance at Innsbruck propelled him to second place, less than 60 points off the lead heading into Crankworx Whistler. In one of the most talked about performances of the week, Keegan rode his enduro bike to a top 20 finish in the men's elite downhill race, outperforming more than 85% of the competitors racing on purpose-built downhill bikes. Always a crowd pleaser, Keegan will be looking to claim the King of Crankworx title in August.
Jackson Goldstone Highlights
Fox team rider Jackson Goldstone took first place in both youth events in Innsbruck. He started off with a hard-fought victory in the Dual Slalom event on Thursday. The Canadian phenom followed that up with an impressive seven-second victory in the IXS Innsbruck Downhill race. Jackson will be looking for another solid performance, on home soil, at Crankworx Whistler in August.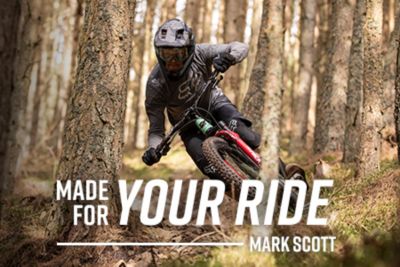 12/06/2019
MADE FOR YOUR RIDE | MARK SCOTT
Durability, versatility, or mobility? As one of the only riders to complete every stage of the Enduro World Series since its inception, Mark Scott knows a thing or two about mountain bike gear. For training in the beautiful hills around Edinburgh, Scotland, he mixed the mobility of the Flexair Collection with the versatility of the Proframe Helmet. This was the perfect combination to keep him agile while riding through the lush green trails.
"Flexair is my all-time favorite summer riding jersey; it's been my go-to over the last few years as it's very light feeling and dries out super quick. It makes it perfect for my longer endurance rides and EWS racing"
-MARK SCOTT – ENDURO PRO RACER
To create a kit of your own, use our MTB kit builder tool. With three benefit-driven mountain bike collections, the kit you imagine can be as diverse as the terrain you ride in.